Coronavirus forced the live music industry to cancel all major events in 2020. However, success stories of Hungarian underground festivals proved that live music is not entirely dead! Could these smaller events be an opportunity for the future?
Like many countries, Hungary started a lockdown in March 2020. Indoor events were capped at 100 visitors, while outdoor venues allowed 500 people. It was clear that in 2020 there would be no Sziget, VOLT or Balaton Sound. Still, smaller festivals like Fekete Zaj and Lowland Fest proved to be an exception. With only some minor changes, these alternative events showed that the Hungarian underground scene is a fantastic alternative for the regular festival season.
Fekete Zaj 2020
Fekete Zaj took place between 19-23 August at Mátra-Sástó in the north of Hungary. Representing the darker side of arts and music, the festival is an established name in the Hungarian underground scene. The line-up included treats for everyone who is interested in music far from the mainstream. Various subgenres of metal, some indie/alter groups, and even electronic music found its place on the four stages of the festival. However, due to the restrictions, international acts from the line-up had to cancel and were replaced with Hungarian acts. Apart from music, visitors could take part in various side programmes. These included workshops, yoga and art installations, while braver visitors could even get a new tattoo.
Measures at Fekete Zaj
For the safety of visitors, Fekete Zaj implemented other changes too. Firstly, they checked visitors' body temperature at the entrance, and hand sanitizers were available everywhere. Secondly, the festival continued using contactless payment, just like in their previous editions. Furthermore, crowd control was an important measure in order to make social distancing possible. In front of the two main stages – Fanyűvő and Delta – only 500 people were allowed at the same time. Visitors could only enter these areas through a gate that read the chip in the wristband. Masks were advised, but not compulsory, according to official government guidelines at the time.
Fekete Zaj community
Community and supporting the scene is vital for the underground, and Fekete Zaj shares this value 100%. They have received loads of support from the fans and the community throughout the years. The strength of the Hungarian underground kept Fekete Zaj alive, so this year they tried to give back as much as they could. One of these initiatives was the Fekete Zaj Social Support, in which the festival helped those fans who would not be able to attend for financial reasons.
Second, the organization created an installation called 'Legyen Zaj!' ('Let there be Noise!'). The installation debuted in Dürer Kert in Budapest at the warm-up event of Fekete Zaj, then it appeared on the festival grounds. To this string net visitors could attach messages to all those professionals who could not work this summer at music events. In this way, the festival celebrates its main pillar, the community, and values togetherness.
'For Better Metal Health' – Lowland Fest 2020
Lowland Fest is a brand new initiative in the Hungarian underground metal scene (not to be confused with Lowlands in the Netherlands). The festival takes place mid-July in the Lowland area of Hungary (Alföld), hence the name. Lowland Fest was born after the very sad news of festival cancellations this summer. A group of friends and festival enthusiasts decided to solve this problem by organising their very own festival! Of course, on a much smaller scale, and by inviting people they knew. They didn't advertise the festival publicly anywhere, the audience was gathered by invitations only. The line-up consisted of 21 Hungarian bands, real underground treats for fans of thrash, death, black metal and grindcore.
Organisation
About the background of the event, main organiser Gergely Győri says: "When the lockdown started, more and more festivals announced their cancellations. We had this idea to organise a tiny, house-party-like event with our bands, playing for 50-60 friends of ours. When Rockmaraton announced mid-May that they can't go through this year, then we knew we will try to make something bigger for the summer."
"I believe that, apart from our enthusiasm, luck played a really important role too. Restrictions were a bit eased for the summer in Hungary, and it was also extremely fortunate that musicians and other professionals were free at the time. We had a month to prepare, and it was definitely a rush to organise and get things ready in a quality that we felt is needed for this first edition. Uncertainty was the greatest enemy, this is why we organised the whole festival low-key, and had an invite-only basis."
Lowland Fest measures
About safety measures at Lowland Fest, Gergely adds: "First of all, we made sure that hand sanitisers are available near the toilets. The owners of the venue cleaned both the showers and toilets several times a day. Even though we had a fortunate situation in July, we advised everyone to follow the safety advice and guidelines during the event. We followed these too, and asked everyone to take care of each other. At the time there was no need to enforce strict rules regarding masks and social distancing. Another thing I believe helped a lot is the invite-only basis for the festival. We didn't advertise it anywhere, we only had a Facebook group set on secret. This way we could ensure that reliable people are coming and we can trust them with being responsible."
Hope for the future?
While major festivals could not go through in Hungary in 2020, Fekete Zaj and Lowland Fest showed a feasible way of organising festivals. It could be that in the near future, large-scale events are put on hold and smaller-scale festivals will thrive in the coming festivals seasons. The Hungarian underground scene proves that a strong, committed fan base can really keep the scene alive. Apart from the quality of music, it is the community that makes the underground great and relevant.
Gergely from Lowland Fest shares this view: "I think that given this situation going in the direction of large festivals is not the best solution. However, bringing out the maximum from the underground scene can have a lot of benefits. In my opinion a festival is not just about the bands who play. A good festival is where the overall experience is great, for instance. This comes from small things like wristbands and re-cups to the community itself. I do hope that people will be interested in the underground scene in the future. I think this is the most valuable aspect of the underground, that there is a supportive community in the scene."
Underground festivals in 2021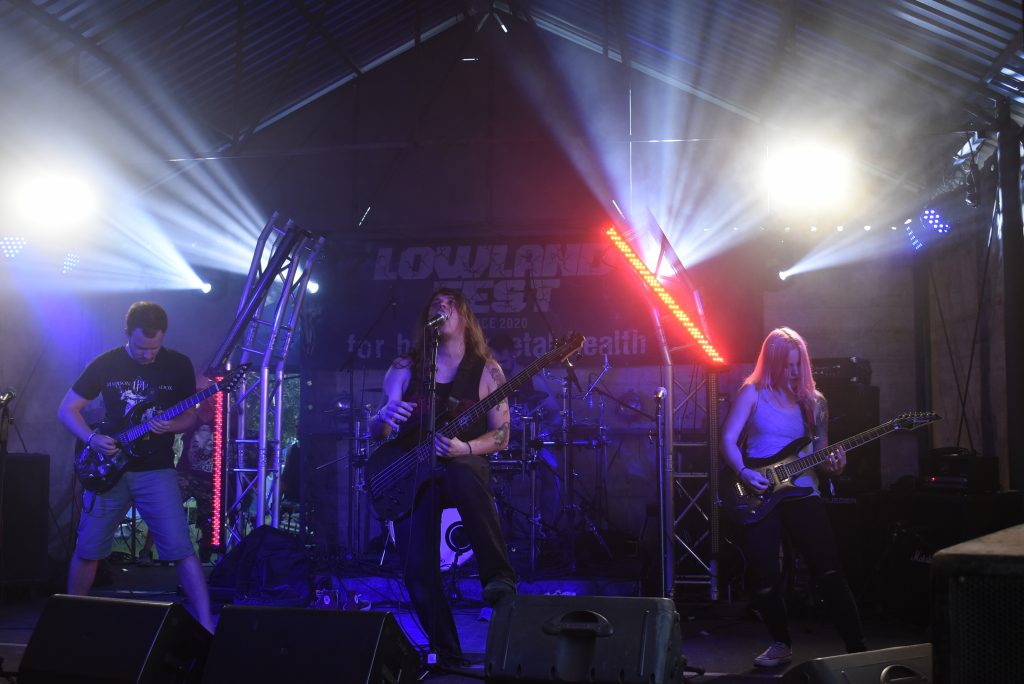 Additionally, Gergely says that many things depend on regulations in the future, but they have plenty of ideas for coming editions: "We'd like to continue organising Lowland Fest, and if possible, have a winter edition as well. Next year we plan to advertise the event as an alternative to the invite-only basis. It would be great to have a second stage, so more bands could play. We do hope that restrictions will ease and we can invite international acts as well. This year we've seen that there is a need from the audience to see Hungarian underground bands."
Hopefully Hungary can welcome festival visitors again soon and celebrate music with its rich festival scene. Fekete Zaj has already announced dates for 2021 and will open its gates between 18-21 August. More information on Lowland Fest is coming next year.