Arcade Fire is an amazing band in studio, with masterpieces like Funeral and Neon Bible, Grammy-winning The Suburbs or new indie-disco phenomenons Reflektor and Everything Now. But more than that, what makes them an indie darling are their live shows. Here are five reasons why Arcade Fire is the best festival act.
An impressive back catalogue
As much energy as you put into it, you can't really make a show work if you don't have the songs to back it up. And Arcade Fire have them. From the calmer 'Intervention' to the more intense 'Sprawl II', from Win Butler singing on 'Reflektor' to Regine dancing on 'Haiti'. From the ultimate festival closer 'Wake Up' to the latest opener 'Everything Now (continued)'… You will love every second of it. What's even better is that while they do have staples that come back, their setlist are not always known in advance. But if you pray enough, you might get 'Power Out' back to back with 'Rebellion (Lies)', for the ultimate musical transition.
Arcade Fire on stage: a synergy like no other
Even more so than the songs they perform, the group's synergy on stage is what makes everyone agree on their status. It's easy when Win is Will's brother and Regine's husband. Also when they all seem so down to earth. On stage, not only they exchange smiles, but they also exchange instruments between songs. 'The Suburbs' is one of my favorite parts of their concerts, when see Win walking towards the piano while Regine joins Jeremy on a double-drums. Other Arcade Fire band members are Richard Reed Perry and Tim Kingsbury, and they are joined on tour by violonist Sarah Neufeld, saxophonist Stuart Bogie, percussionist Tiwill Duprate and more.
Regine Chassagne
Among all the band members, I can't help but have the biggest love for Regine. It might be because of her infectious smile, or her candid interviews, or the fact that she sometimes sings in french, or that her lyrics are the ones that resonates with me the most… I mean, whether it's 'Haiti', 'Sprawl II', or 'In the Backseat', she gives so much of herself through these words. 'They heard me singing and they told me to stop' / 'Guns can't kill what soldiers can't see' / 'Alice died, In the night'. Singing about a mother's death, I can only imagine how strong she is. I love you.
The scenography
Arcade Fire rarely relied on scenography. One example that comes to my mind is the giant Neon Bible for the eponymous tour. But with the Reflektor tour came a new extravaganza: giant disco ball and bobble heads, costumes… Sometimes the band would start a show on a makeshift stage at the back of the site, before going to the main stage. They stepped it up with the Everything Now arena tour, with a ring-like stage that added to he experience by having the crowd closer. What to expect for the next one?
Arcade Fire at Nos Alive 2016
I had the chance to watch the Canadian band in 2016 at NOS Alive, in Portugal. The rest of the lineup was amazing (Radiohead, Tame Impala, Chemical Brothers, Hot Chip and more) but only the late addition of Arcade Fire made me change my travel itinerary to visit Lisbon (one of only two European festival that year). I wasn't even the biggest fan but that was the cherry on top. But after that night, I was a changed man. There's a before and an after Arcade Fire show. You're not the same anymore. Musically, but also humanly. If you're still reading at this point, I guess that the setlist will be enough for you to imagine my night.
Festival Acts Top 100 of All Time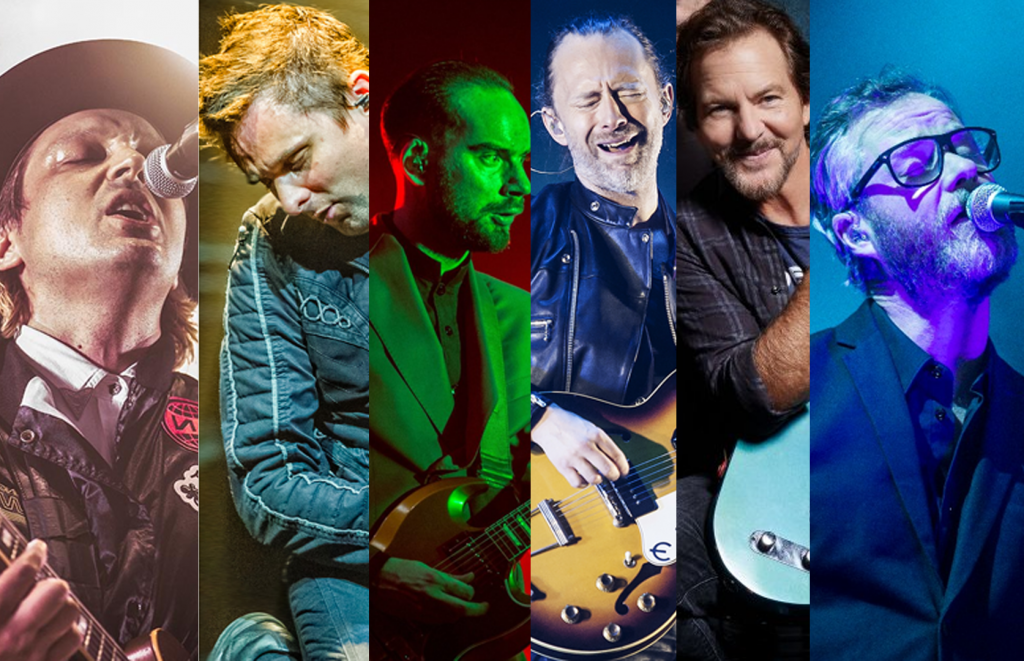 Normally, Festileaks organizes the yearly competition Festivalacts Top 100: the list with the best festival acts of the past summer. Because there was not much to enjoy in 2020, we are treating you on an extra big edition of the FAT100. Festileaks counters the festivalslump with the Festialacts Top 100 of all time.
The voting period lasted from Monday 18 untill Wednesday the 27th of January. We will announce the winner on Friday the 29th. A day later, on January 30 between 15:00 and 18:00, the whole list of the Festivalacts Top 100 will be broadcoast in a special edition on KINK Indie.
Past winners of the FAT100 are Arcade Fire (2014), Muse (2015), De Staat (2016), Radiohead (2017), Pearl Jam (2018) and The National (2019).