Big Thief is one of the rising stars of the indie scene, and their live shows reflect that. Here are five reasons why they are the best festival act.
From Masterpiece to Two Hands
With four albums in three years, Big Thief is one of the most productive bands in the scene. What's amazing is that all are exceptional and have their own world, and their own hits. Proof is, there is no agreement among fans on which is the best. 'Real Love' and 'Paul' on Masterpiece; 'Mythological Beauty' and 'Mary on Capacity, 'Cattails' and 'Terminal Paradise' on UFOF. If anything, Two Hands might be the less compact of the four, but it is compensated by the fact that 'Not' is arguably the best song of 2019. I just listed some here, but really, they have no bad song. And that is often the recipe for a good show.
Big Thief: Unique shows
Big Thief have great songs, and they know it. No concert is like the other. Each setlist is different. They could start with a calm song or a more agressive one. Anything is possible. It's great if you're a fan, ready to be surprised. And if you miss a song, it's just another reason to catch them again. Even more than that, Big Thief also performs unreleased songs. That's what confident band do. One of my favorites is 'Bruiser'. I can't wait for its release but it's ok if it happens in ten years.
Adrianne Lenker
Each musician is extremely talented but what makes the band overshine is Adrianne Lenker. In addition to adding some of her solo music to the setlist, Adrianne is just radiant. She is so real as a person, her smiles are so genuine, her voice is so beautiful, her songwriting so touching. Everything she does is gold. Her last album, Songs, is a perfect exemple.
A band, friends, humans
The other band members are what differentiate Big Thief from Adrianne Lenker. Buck Meek is an amazing guitarist and also sometimes sing his solo stuff. Max Olearchik at the bass is as calm as he is good. His outfit on KEXP is also something to remember. Finally, James Krivchenia is one of the best drummer I know. Or at least the most fit for the band he is in, if that makes any sense. But really, it's the fusion of the four and their interactions on stage that makes Big Thief what it is. I mean, look at the video above. After the second show of the night got cancelled last minute because of health restrictions in Denmark, they went outside to play for the fans that were already at the venue. Down to earth.
Big Thief live in Montreal
I had the chance to attend a Big Thief concert on October 2019. I went by myself, after buying a ticket on reddit a few days prior. I got into them late, but early enough! It is simply my best concert until now in Montreal, and in my top 5 ever. The setlist was great, especially the 'Paul-Not-Masterpiece-Mary' run. The crowd was perfect: applauding in between songs, silent during the calmer parts, singing along when appropriate. Of course it's great to watch them indoor, but an open air sunset set would be something to live.
Festival Acts Top 100 of All Time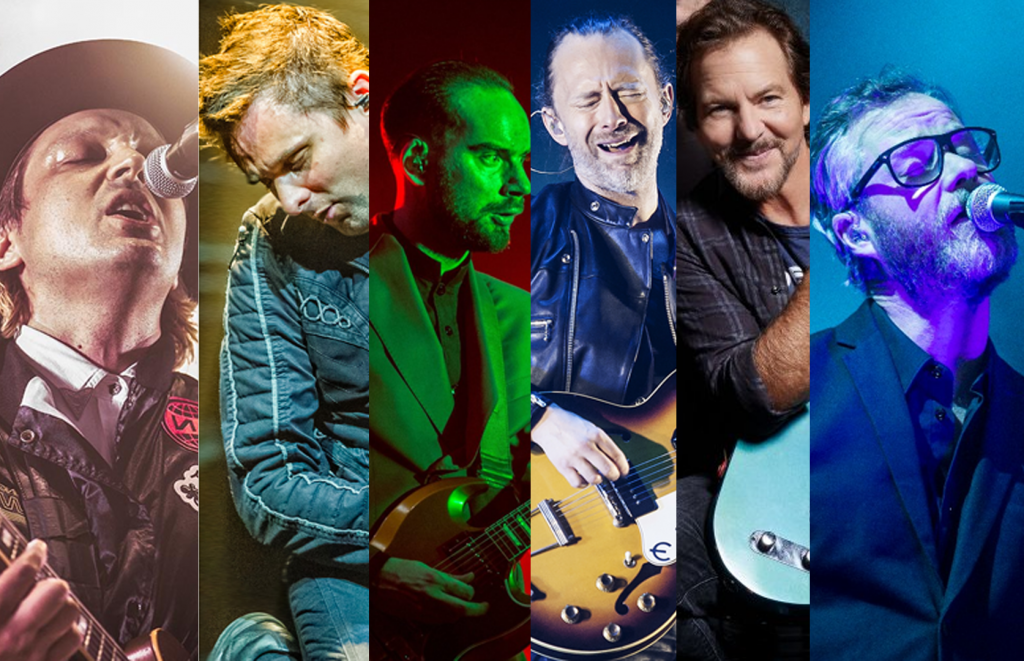 Normally, Festileaks organizes the yearly competition Festivalacts Top 100: the list with the best festival acts of the past summer. Because there was not much to enjoy in 2020, we are treating you on an extra big edition of the FAT100. Festileaks counters the festivalslump with the Festialacts Top 100 of all time.
The voting period lasted from Monday 18 untill Wednesday the 27th of January. We will announce the winner on Friday the 29th. A day later, on January 30 between 15:00 and 18:00, the whole list of the Festivalacts Top 100 will be broadcoast in a special edition on KINK Indie.
Past winners of the FAT100 are Arcade Fire (2014), Muse (2015), De Staat (2016), Radiohead (2017), Pearl Jam (2018) and The National (2019).