The German industrial metal band Rammstein was founded in Berlin in 1994. With the vast majority of their songs recorded in German, the band became one of the most beloved live acts around. Let's have a closer look on the reasons that contributed to their international success.
Release of debut album
After winning a music contest for amateur bands in 1994, members of Rammstein recorded a 4-track demo tape in a professional studio. The tape included early versions of songs that would be part of their debut album Herzeleid ("Heartbroken"). The album came out in September 1995 but sold poorly at first. The band also embarked on their first German headline tour, which boosted the band's popularity and helped them establish as a credible live act in Germany.
The following year, Rammstein supported The Ramones on their farewell tour in Germany and played their first UK show. The band's first major boost in popularity outside Germany was when when Nine Inch Nails frontman Trent Reznor chose two Rammstein songs from their debut album during his work as music director for the film of David Lynch Lost Highway. It was not until 1997 and the release of their second album Sehnsucht ("Desire") that Rammstein performed in other European countries and USA for the first time.
Fire
People that have attendetd a live performance of Rammstein cannot disagree that the heavy use of pyrotechnics plays a very important and unique role in their shows. However, their aggressive and over-the-top stage show has been a part of Rammstein's identity since the very beginning. To ensure the safety of their performances, the band has been using a team of professionals to handle the pyrotechnics. In additon, the frontman of the band Till Lindemann is also qualified as a licensed pyrotechnician.
Rammstein has developed over the years a unique visual identiy in combination with a well-orchestrated theatrical show. When the lead guitarist of the band Richard Kruspe was asked about the band's live performances, he said: "You have to understand that 99 per cent of the people don't understand the lyrics, so you have to come up with something to keep the drama in the show. We like to have a show; we like to play with fire".
Having said that, anyone that sees flames shooting up to the sky in combination with fireworks that make feel the heat on your face can get excited. But it wouldn't work if the music, the lights and everything else didn't fit with the show.
Rammstein lyrics and music
Over the years, the band has managed to connect with their audience emotionally even if most of the people cannot understand what's being said. It is also often argued, that their song writing gets overshadowed by the dominance of their live performances. According to Paul Landers, rhythm guitaris of the band: "One thing I try to think about when we're writing songs is how it will feel to play live". As a result, the band's lyrics in combination with the industrial noise and heavy guitars have become an essential element of their music and worldwide success.
Several of their songs focus on controversial and taboo subjects such as pyromania, sexual violence and cannibalism. However, Rammstein's lyrics are also inspired by real-life events or refer to classical German literature. The interpretation of their music on stage validated the fact that the band can play that way with cliches and display them to the public.
Over the years, Rammstein's overall image and lyrics has been subject to criticism. One example is their cover of Depeche Mode's song "Stripped". Rammstein was acussed for including militaristic and fascist symbolism in their video clip. However, it has been clarified multiple times that Rammstein's intention has never been to outrage or frighten, and they aren't in any way connected with any right-wing activities.
Rammstein Legacy
Rammstein are considered by many a proof of music's power to communicate on a universal playing field. The band's ability to be authentic and stick to their defined identity has definitely contributed to their legacy. Their decision to be out of the public eye for large periods of time has also helped them get bigger and more successful. For example, in 2010 Rammstein announced a show in Madison Square Garden after a ten-years absence from touring America. The show sold out then in under thirty minutes.
Taking everything into account, the mystique that Rammstein have created for themselves is a combination of different factors. As a result their energetic stage presence, spectacular shows and obscure lyrics have stood the test of time. In addition, it is possible to approach Rammstein only from the musical and lyrical side. However in order to truly understand the phenomenon you have to attend one of their shows. At least once!
Festival Acts Top 100 of All Time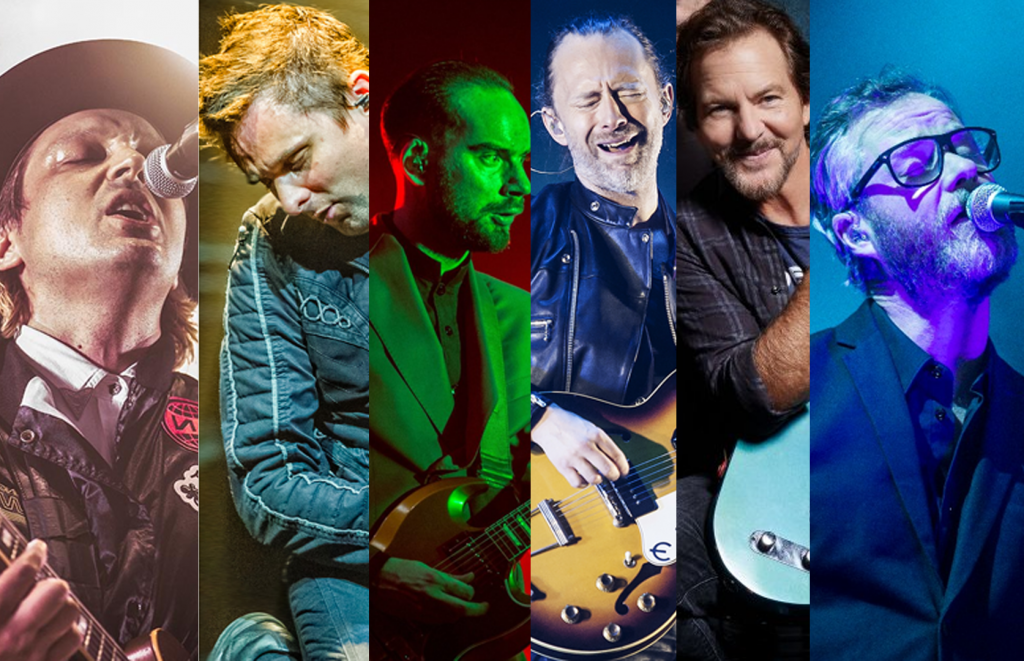 Normally, Festileaks organizes the yearly competition Festivalacts Top 100: the list with the best festival acts of the past summer. Because there was not much to enjoy in 2020, we are treating you on an extra big edition of the FAT100. Festileaks counters the festivalslump with the Festialacts Top 100 of all time.
The voting period lasted from Monday 18 untill Wednesday the 27th of January. We will announce the winner on Friday the 29th. A day later, on January 30 between 15:00 and 18:00, the whole list of the Festivalacts Top 100 will be broadcoast in a special edition on KINK Indie.
Past winners of the FAT100 are Arcade Fire (2014), Muse (2015), De Staat (2016), Radiohead (2017), Pearl Jam (2018) and The National (2019).